Electrical & Solar Maintenance
Solar System Service and Maintenance Checks
We specialise in electrical and solar maintenance. Solar panels need to be cleaned regularly to maintain their highest efficiency. Solar panels in areas in new estates, are subjected to ash fall, bird droppings, salt spray or dust and road grime, needed to be cleaned at least every 3-6 months. Our advanced solar panel cleaning system used Ionised water which disinfects, kills bacteria and leaves a protective coat on the service of the panel. Our advanced cleaning system is like no other.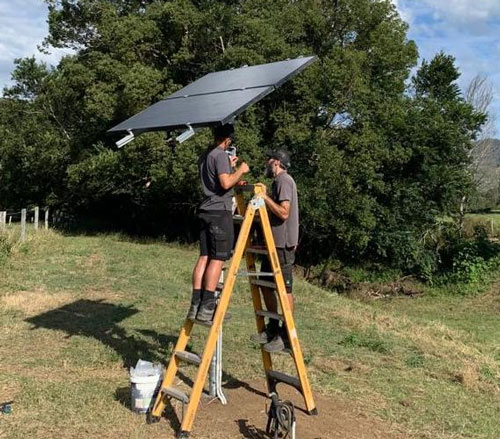 Need help with your solar?
GENERAL INSPECTIONS & HEALTH CHECKS
If you have any sort of concerns or unsure if your solar power system is working properly, book our general inspection service for a full system check.
INVERTER ERRORS & TESTING
We are able to assist with all solar panels and inverters and inverter errors. We will be able to diagnose the fault on the inverter and provide a solution to the problem. For more info on faults with solar inverters, please visit our FAQ section.
PANEL TESTING
We have specialised solar testing meters to test the performance of individual solar panels
PERFORMANCE CHECKS
With our specialised software and testing meters, we can check the output of your solar power system and advise whether or not is it performing like it should be.
CLEANING
Are your solar panels dirty but you would prefer not to get on the roof to clean them? Contact us to arrange a cleaning appointment or to add a panel clean to your general inspection.
COMPREHENSIVE TESTING
We perform basic system inspections through to comprehensive inspections. Comprehensive inspections on your solar power system can be conducted upon request. This includes testing inverter efficiency and panel efficiency including testing for potential PID issues on solar panels.
Fill in the form to get a FREE Quote for your Electrical & Solar Maintenance needs
We found dealings with Phil Brunsden, Keystones Electrical, to be most pleasant, helpfull, and informative, and the presentation of the recommended system, in the proposal to be excellent We strongly recommend that you go to Phill at Keystones for his expert advice, and a hassle free installation of your Solar System .
Ian Ricketts
Thank you Keystones Electrical. The entire team were prompt, professional, friendly and most importantly excellent electricians. We renovated our kitchen, dining and new studio, and very happy with the attention to detail and after-service that was provided. Highly recommend.
Sammie Behr
Fantastic company to work with, quick, efficient and great communication. Keystones use the latest technology and provide full support once your solar system is installed. I would recommend them to anyone thinking of installing solar. Thanks Dan and the keystones team.
Sue Mortimer
Subscribe to our newsletter
Don't miss new updates on your email